Organic SEO
Do you want your online business to take off and grow exponentially? Ranking high on major search engines such as Google is crucial in this day and age. Just posting a website will not suffice to get the traffic that you desire and need. LADO Studio offers websites that are built with functioning Search Engine Optimization (SEO) in mind. We make sure that every page, link and blog post is beneficial and helpful to ranking you higher on the most popular search engines, directories and searched key words. Our professional team will update your website so it's more relevant for popular search terms within your target market, to achieve maximum exposure that will help your ongoing promotion for your business.
Studies demonstrate that the majority of people who visit a website for the first time, originally find it through a search engine. Search Engine Optimization makes a website search engine friendly, where better positioning means more potential customers. Defining the key words of a website is the most important aspect of search engine optimization. LADO Studio will assist in building links that point to your website so that major search engines will consider your website reputable and informative. The purpose of Search Engine Optimization (SEO) is to generate traffic, that will ultimately rank you above your competitors.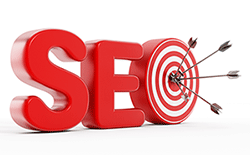 LADO Studio's Search Engine Optimization (SEO) services will provide your existing or future website the visibility on organic (un-paid), crawler-based listings. Your websites to be highly optimized for major search engines such as Google, Bing, Yahoo, etc. Our SEO professionals are there to achieve your goals, and transform your website into a search engine friendly domain. Our services will make sure that all of your website's elements are coded properly to be recognized by search engines.
To know more how SEO marketing solutions will benefit your website.
Contact us today!